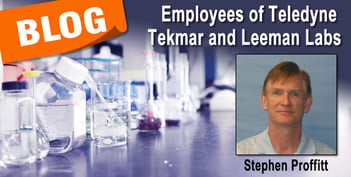 With today's blog, let's get to know the employees of Teledyne Tekmar/Leeman Labs. The next person I would like to introduce to you is Steve Proffitt.
Steve is an Applications Chemist for Teledyne Tekmar. He is an expert in Total Organic Carbon analysis using the Fusion, Torch, Lotix, and LSS Boat products. He is responsible for the overlap between marketing and chemistry. Steve helps develop analytical methods for testing customer samples, provide technical input during sales calls, and offer guidance for the complete line of carbon analyzers. Steve has been with Teledyne for 24 years. Steve was previously an R&D Scientist for 14 years and helped design the Fusion, Torch, Lotix, and LSS Boat as well as some of the VOC products. In his lengthy career at Teledyne Tekmar, Steve has also worked in Technical Support and as a Service Engineer.
Let's ask Steve some questions to get to know him better.
What is your background and how did you get into the analytical chemistry field? –
When I was growing up, I was fascinated with chemistry. I would ask for chemistry sets for my birthday or Christmas. This was back in the 70s and you could still get all-inclusive chemistry sets with potent chemicals and cool experiments. Anyway, a lot of fun…

Now, fast forward to college. I graduated from The University Cincinnati (UC) with an associate degree in Chemical Technology and got a job with UC working for the Civil and Environmental Engineering Department. While there, I went to evening college and earned my bachelor's degree in Natural Sciences, majoring in Chemistry and Biology.
How did you start working at Teledyne Tekmar? –
After UC, I worked at several Environmental Laboratories. The last one I worked at; I was the Lab Manager. This required putting in a lot of "extra" hours. With two very young daughters at home and with my wife also working, I needed a job that didn't require 20 "extra" hours of work per week in order to balance my work and home lives. Luckily, I knew someone at Tekmar and he notified me of a job opening in Technical Support. …and that's how I got started at Teledyne Tekmar.
What is a typical day like for you? –
One of the great things about working as an Applications Chemist is that there really isn't a typical day. Briefly, my duties revolve around supporting customers and our Sales Department with instrumentation application opportunities, assisting the Manufacturing Department with guidance for any questions they may have, and helping test and verify vendor component changes. Being an inter-departmental resource person is quite exciting and rewarding.
Outside of work, what is it that you like to do? –
I enjoy being outside. I love both mountain biking and road biking, hiking, kayaking, and frisbee golf. Previously, I played indoor and outdoor soccer until I was 55 and my body said, "enough!" Recently, my wife and I bought a boat, so we spend a lot of time boating on the Ohio River.
Any pets at home? –
Yes. We unintentionally have three cats. Our first cat, Jasmine, who is an inside/outside cat strayed away from home and got lost. She was missing for two months. At that point, we reluctantly agreed that we would probably never see her again… So, we replaced her with two cats. We got a brother and sister and named them Eleanor and Rigby. Yeah, Beatles fans… We also have a dog, Millie. She's a corgi mix and extremely friendly. When we grill out for dinner, her favorite is salmon with asparagus. She's very healthy.
What is one part of the job that you find rewarding? –
Having worked at Teledyne Tekmar for as long as I have, I will say the most rewarding part of my job is the long-time relationships and friendships I have made with other employees. Of course, a company's employees are the core of its success; and at Tekmar, you will find a great group of people dedicated to their profession and always striving to provide customer satisfaction through continual improvement.
In this series, I hope that every reader will be able to learn a little more about the employees they interact with here at Teledyne Tekmar/Leeman Labs. If you call for parts, support, or sales we all have a story and we would like to share that story with you. Visit Teledyne Leeman Labs blog to read about more employees.
If you would like more information on Teledyne Tekmar products, visit www.teledynetekmar.com or contact us by clicking the button below.