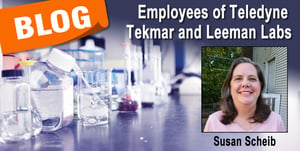 With today's blog, let's get to know the employees of Teledyne Tekmar/Leeman Labs. The next person I I would like to introduce to you is Susan Scheib.
Susan Scheib wears many hats at Teledyne. Her primary focus is Service Agreement Manager for TACS and Depot Repair Manager for Teledyne Hastings. She is also involved as backup Import/Export Administrator for Teledyne Tekmar/Leeman Labs. She has been with Teledyne Tekmar for 22 years and began her full-time career as a Technical Support Specialist. Susan is well versed in all the products that Teledyne Tekmar/Leeman Labs manufactures and has quickly learned the Teledyne Hastings products in her new role there.
Let's ask Susan some questions to get to know them better.
What is your background and how did you get into the analytical chemistry field? –
I have a Bachelor of Arts, with ACS Certification in Chemistry from Lycoming College (Williamsport, PA) and a Masters in Analytical Chemistry from Miami University of Ohio. I fell in love with Chemistry in high school due to an amazing teacher. I originally wanted to become a HS teacher, but after entering college, quickly changed my mind. I was not so much the chemistry "lab experiment" person but gravitated towards the instrumentation area of chemistry due to the availability of "hands on" experience at a small college. I did undergraduate project on gas chromatography for Merck Pharmaceutical's in process raw materials and graduate research (Donnan Dialysis) on liquid chromatography for Alltech.
How did you start working at Teledyne Tekmar?
I was a temporary employee right after I graduated from Miami. I worked for a few months in the applications lab during the development of the LSC 3000 and AQUATek 70. A few years later I was looking for a job and was advised by a friend that a technical support position was open. I applied and the rest is history.
What is a typical day like for you?
There really isn't a typical day, but I usually start by going thru emails! I work on preparing quotes and following up on service agreements that are coming up for renewal and encouraging customers that have new instruments with the warranty expiring to purchase a service agreement. I also check in on my team at Teledyne Hastings, since I manage that remotely, and assist with anything needed there.
Outside of work, what is it that you like to do?
I love to travel & participate in outdoor activities. I also play the viola and am a member of the Kentucky Symphony orchestra. I have twin daughters that are now nearly grown, and my husband and I are enjoying "empty nesting."
Any pets at home?




Yes! A cat, Sheldon and dog, Jack. Jack lived his "best life" when I was working from home during the pandemic. He was the laziest coworker I have ever met.
What is one part of the job that you find rewarding?
I enjoy keeping in touch and hearing from customers that I have worked with and known for over 20 years now. It is almost an extension of my own family. I met most of them when I was in technical support and stay in touch with them as I work on their service agreement. Everyday at Tekmar is different. No two days are the same.
In this series, I hope that every reader will be able to learn a little more about the employees they interact with here at Teledyne Tekmar/Leeman Labs. If you call for parts, support, or sales we all have a story and we would like to share that story with you. Visit Teledyne Leeman Labs blog to read about more employees.
For more information on Tekmar's VOC and TOC products, visit www.teledynetekmar.com or contact us