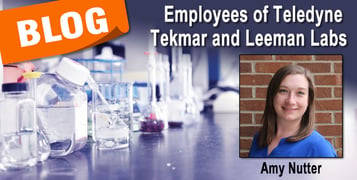 With today's blog, let's get to know the employees of Teledyne Tekmar. The next person I would like to introduce you to is Amy Nutter.
Amy is the VOC Technical Product Specialist at Teledyne Tekmar. Currently, she is focused on fostering relationships with OEM partners by developing applications and webinars for the Purge and Trap product line. She also provides customer application support. Amy has been with Teledyne Tekmar for 5 years. She was previously the VOC Applications Chemist for the Purge and Trap product line.
Let's ask Amy some questions to get to know her better.
What is your background and how did you get into the analytical chemistry field?
I went to Thomas More University and Miami University for my degrees in Biology and Environmental Science, respectively. During undergrad and before I started my master's degree, I worked in a variety of labs focused on water chemistry and toxicology. I even spent a summer in Illinois grubbing for freshwater mussels all over the state, which was very fun. After completing my coursework at Miami University, I took an internship with the Metropolitan Sewer District of Greater Cincinnati where I was conducting experiments on the disinfection potential of peracetic acid. After graduation, I started full time with the city and worked in the wet chemistry, nutrients, and organics laboratories.


How did you start working at Teledyne Tekmar?
At the time, I was working for Greater Cincinnati Water Works as a laboratory technician in the organics lab. I came to Teledyne Tekmar for an in-person TOC training. As soon as I walked into the building, I immediately recognized the former VOC product marketing manager because we had attended Thomas More University at the same time. He called the next day to learn more about my background and wanted me to come in for an interview for the open Applications Chemist position. The rest, as they say, is history. I started working for Teledyne Tekmar a few weeks later.


What has been the best thing about joining Teledyne Tekmar?
The friendships and connections I've made within and outside of Teledyne Tekmar. I enjoy coming to work every day and collaborating with the team. We make it a fun environment because we all get along so well. Outside of the office, when traveling to a conference to attend or present at, I now have friends and colleagues that I've collaborated with that I enjoy meeting up with.


Outside of work, what is it that you like to do?
At home, we have two toddlers to keep up with. We enjoy taking them to the zoo, aquarium, museums, and parks when we can. We are starting to travel with them more, which has been a fun experience to share with them. I also enjoy playing sports, such as golf, volleyball, and basketball.


Any pets at home?
We have a black cat named Tobias. He would sit on the back of the couch and look out the window all day if he could, but the kids love to chase him around. We always leave the blinds up in his spot so he can watch the school bus pick up/drop off the kids from across the street and the birds play in the yard; some of his favorite things.


What is one part of the job that you enjoy?
Every day is a new challenge. Whether it's a new application or a customer to help. It keeps the job interesting and exciting to come into every day. Being able to share with customers new application notes and webinars that help answer some of their questions is also very rewarding. Seeing the final product of sometimes months of data collection and analysis is validating, and something I am proud to help produce.
In this series, I hope that every reader will be able to learn a little more about the employees they interact with here at Teledyne Tekmar/Leeman Labs. If you call for parts, support or sales we all have a story and we would like to share that story with you.
Be sure to head over to the Teledyne Leeman Labs Blog to read about some more great employees - https://info.teledyneleemanlabs.com/blog
For more information on Teledyne Tekmar visit our website and the products we make for VOC and TOC analysis