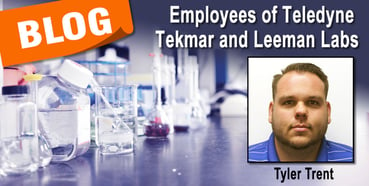 With today's blog, I thought maybe we could go down another direction and get to know the employees of Teledyne Tekmar/Leeman Labs. The first person I would like to introduce you to is Tyler Trent.
Tyler is the Elemental Product Marketing Manager for Teledyne Tekmar and Leeman Labs. He oversees the TOC, ICP and Hg product lines. Tyler is entering his 12th year at Teledyne. Over the 12 years he has cover a wide range of roles.
Tyler was hired right out of college and has held the following positions: Application Chemist, Application Sales Specialist, Europe Middle East, and Africa Sales Manager and now his most recent role of Elemental Product Marketing Manager.
Let's ask Tyler some questions to get to know him better.
How did you start working at Teledyne Tekmar/Leeman Labs? – Well, funny story, while I was a student contractor at the USEPA, my coworker told me about this job, and she thought I should apply. From that point forward, I did some research about the role (Application Chemist) and thought this was a great opportunity. As all through college, I dreamed about working with an instrumentation company. Well, this dream came true in July 2010.
What has been the best thing about joining Teledyne Tekmar/Leeman Labs? – Outside of the friendships I have made. I would say the travel. While working here, it has allowed me to see 24 countries and network with colleagues worldwide.
To follow up on that, what is the best place you have traveled? – I have two favorite places. First, I would say Prague Czech Republic. The history of this city is what draws me to this place. Second is not a country but it's a region and this would be the Middle East. The best memory I have is spending time with a distributor all day at customer sites and since it was the last day of the work week, they took me out for a special dinner. This dinner was simple but the best time. We all grabbed some items from the supermarket, when down to the beach and cooked our dinner over an open fire on the Persian Gulf.
Outside of work, what is it that you like to do? – Outside of work, there are many things I like to do to stay busy. This ranges from playing golf to hiking, fishing and camping with the family.
Any pets at home? – Oh my yes. We have three dogs. One is a Great Dane named Moose and then we have two chihuahuas named Tank and Lola. Yes the two little ones rule the house and even the Great Dane.
What is one part of the job that you enjoy? – That is tough, as there are many things I enjoy about my job. If I have to pick one, I will say its networking and interacting with customer to understanding their pain points within their process and trying to solve that issue. It allows me to think big.
In this series, I hope that each an every reader will be able to learn a little more about the employees they interact with here at Teledyne Tekmar/Leeman Labs. If you call for parts, support or sales we all have a story and we would like to share that story with you.
For more information on Teledyne Tekmar visit our website and the products we make for VOC and TOC analysis