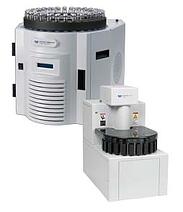 The battle of the headspace Titans continues in the Teledyne Tekmar applications lab. This time, the sample arena has moved to environmental compounds in beverages. Beverages formulated with sodium or potassium benzoate and ascorbic acid may form benzene at part per billion levels (ppb). The lowest current regulation found in the international water regulations for benzene is 1 ppb.
Tekmar's headspace autosamplers, the HT3 and Versa, accepted the challenge to see who could go lower than 1 ppb. Of course, in the interest of fair play, the HT3 was used in static mode only. A GC/MS system using SIM/Scan mode would judge the capability of the competing headspace analyzers. This gives the beverage industry the best of both worlds. Not only can Tekmar's headspace analyzers detect benzene at the currently lowest possible level, but they can also check other fragrance and flavors in their products.
The results are in and there appears to be a tie! The HT3 and Versa both met a staggering 0.050 ppb level while still allowing other flavor and fragrances to be identified and checked. That's 20 times lower than the current 1 ppb standard levels. But why don't you be the judge? Please join us on September 25 for a brief webinar on this application. To register for the webinar, click below.