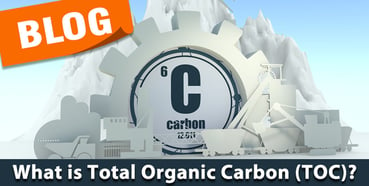 Total Organic Carbon (TOC) is defined as the amount of carbon bound in an organic compound and is often used as a non-specific indicator of water quality or cleanliness of pharmaceutical manufacturing equipment.
TOC analysis grew from the need to analyze wastewater and municipal water for organic matter. The need to protect it and establish criteria for screening and measuring contaminant levels was recognized when Congress enacted the Resource Conservation and Recovery Act (RCRA) in 1976. This act requires operators of waste disposal sites to monitor their groundwater on a quarterly basis for organic carbon levels and organic halide levels. With passage of the U.S. Safe Drinking Water Act in 2001, TOC analysis emerged as a quick and accurate alternative to the classical but more lengthy biological oxygen demand (BOD).
TOC has been an analytic technique used to measure water quality during the drinking water purification process. TOC in source waters comes from decaying Natural Organic Matter (NOM) as well as synthetic sources such as detergents, pesticides, fertilizers, chemical spills, etc.
TOC analyzers can measure:
Total Carbon (TC)

Inorganic Carbon (IC)

Total Organic Carbon (TOC)

Non-Purgeable Organic Carbon (NPOC)
To understand the analysis process better, here are some key basic terminologies that should be understood and their relationships to one another:
Total Carbon (TC): represents all of the carbon on the samples, including both inorganic and organic carbon
Total Inorganic Carbon (TIC): often referred to as Inorganic Carbon (IC) and is made up of carbonate, bicarbonate, and carbon dioxide (CO2)
Total Organic Carbon (TOC): material derived from decaying vegetation, bacterial growth, and metabolic activities of living organisms or chemicals
Non-Purgeable Organic Carbon (NPOC): commonly referred to as TOC; organic carbon remaining in an acidified sample after purging the sample with gas.
Purgeable (volatile) Organic Carbon (VOC): this should seem familiar to you as this is the organic carbon that has been removed from a neutral or acidified sample by purging with an inert gas. These are the same compounds referred to as Volatile Organic Compounds (VOC) and usually determined by our Purge and Trap (P&T) Gas Chromatography. They usually account for less than 1% of the carbon in a sample.
Dissolved Organic Carbon (DOC): organic carbon remaining in a sample after filtering the samples, typically using a 0.45 micrometer filter.
Suspended Organic Carbon: also called Particulate Organic Carbon (POC); the carbon in particulate form that is too large to pass through a filter. Figure 1 is a diagram showing some of these terms.
A typical TOC measurement consists of:
Removing inorganic carbon through acidification

Oxidizing organic carbon in a sample to CO

2

Detecting and quantifying the oxidized carbon (CO

2

)

Presenting the results in units of mass carbon per volume of sample
No matter where you look today, many laboratories are measuring for TOC content across many different sample types.
For more information on TOC and TOC instruments, contact us