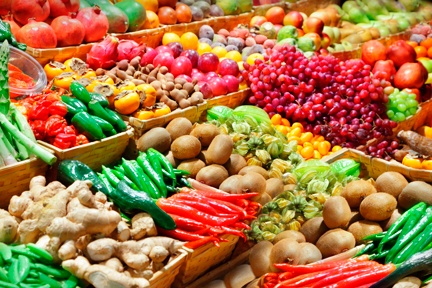 Eat your vegetables… something we've all heard since we were little kids. Parents across the country can share a different version of the same story where little Jane or Johnny sat for hours at the dinner table refusing to eat their green beans and wishing that they had a dog to eat them. The World Health Organization recommends that we eat roughly five servings of fruits and vegetables every day to reduce the risk of heart disease, stroke and cancer.
It's not secret that farmers use pesticides to keep the bugs and diseases away, and increase the crop yields. The pesticides aren't without risk and controversy as there is a general consensus that they should not be consumed and can negatively impact the environment. Most people have been raised with the understanding that fruits and vegetables bought at the store or at a farmer's market should be washed before they are eaten. A recent Korean study published in Biomedical Chromatography reaffirms that this is a recommended practice.
The study looked at the non-systemic pesticide pyridaben, which is used for pest control on fruits and vegetable crops. A non-systemic pesticide works on the surface of plants. In the study, a pepper crop was sprayed with the recommended dose of the pesticide. The peppers were harvested two days after the final application.
"The peppers and leaves were sprayed with pyridaben at a recommended dose, with two days being left between the final pesticide applications and harvesting. The samples were prepared using a quick, easy, cheap, effective, rugged and safe (QuEChERS) method."[i]
The samples were analyzed using liquid chromatography linked to mass spectrometry.
"The effects of various household processes, including washing, blanching, frying and drying under different conditions (water volume, blanching time and temperature) on residual concentrations were evaluated."[ii]
"Washing reduced the residues by over 80% in the leaves and approximately by 50% in the pepper samples, with the pyridaben levels in the untreated samples being higher than the recommended safe levels."[iii]
According to the study, "Both washing and blanching (in combination with high water volume and time factor) significantly reduced residue levels in hot pepper fruit and leaves compared with other processes. In sum, the developed method was satisfactory and could be used to accurately detect residues in unprocessed and processed pepper fruit and leaves. It is recommended that pepper fruit/leaves be blanched after washing before being consumed to protect consumers from the negative health effects of detected pesticide residues."[iv]
So, yes, even if the grocer and farmer said the fruits and vegetables are clean, it's probably best to wash them anyway. They'll be cleaner for little Johnny or Jane even after sitting on a plate for a few hours.
Quick note about QuEChERS
QuEChERS was originally developed in 2003 for the analysis of pesticide residues in fruits and vegetables. It presents a number of advantages over more traditional techniques, including decreasing sample preparation time, fewer steps, reducing the amount of samples and chemicals needed, and delivering method transferability for a number of matrices. Teledyne Tekmar has created a new system that adds to the convenience and speed of the QuEChERs system. The AutoMate-Q40 automates two of the most popular sample preparation methods and includes innovative technology that reliably identifies liquid levels, differentiates between multiple aqueous layers within a vial and calculates their associated volumes. The system improves precision and accuracy of the sample preparation method, adds sample capacity without adding staff, reduces negative impact of lap operations on the environment and increases workplace safety. Learn more at http://www.teledynetekmar.com/AutoMateQ40/.
[i] http://www.chromatographytoday.com/news/autosamplers-detectors-pumps-valves-data-handling/36/breaking_news/wash_those_pesticides_away_chromatography_investigates/36625/#sthash.GeYT3eK5.dpuf
[ii] http://onlinelibrary.wiley.com/doi/10.1002/bmc.3383/abstract
[iii] http://www.chromatographytoday.com/news/autosamplers-detectors-pumps-valves-data-handling/36/breaking_news/wash_those_pesticides_away_chromatography_investigates/36625/#sthash.GeYT3eK5.dpuf
[iv]http://onlinelibrary.wiley.com/doi/10.1002/bmc.3383/abstract