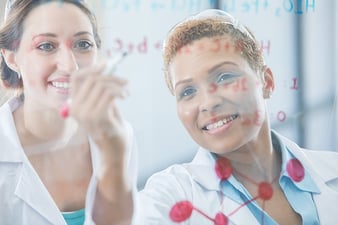 "Research shows that the presence of effective mentoring relationships in the lives of early-career scientists is a strong indicator for career success.[i]"
Many people can point to individuals that have helped them along their career path and life journey. For some, mentors have not only provided them personal and professional guidance, they have also given them a big break. They credit their mentors for their current positions and continue to lean on them for ongoing support.
In lab sciences, mentoring matters. Early days in the lab can be challenging and redundant. The nature of the business can quickly "burn out new scientists." A good mentor can ultimately impact "who does science, how productive they are and how satisfied they are on a science career path."
A recent article in Lab Manager magazine sited several reasons why mentoring matters in the lab. In addition to simply getting people to pursues the science field, "a mentor is needed to serve as a role model to show trainees what is expected of a 'card-carrying member of the profession.'"
When seasoned, successful professionals surround young scientists, they are more likely to have good experiences even during the tedious and isolated times in the lab.
Christine Pfund, an associate scientist in the Wisconsin Center for Education Research at the University of Wisconsin-Madison, defined mentoring in the Lab Manager article as "engaging in a collaborative learning relationship that proceeds through purposeful stages over time and has the primary goal of helping mentees acquire the essential competencies needed for success in their chosen career."
An effective mentor is "honest about the support they can provide mentees," is open to regular communication and establishes a plan of action and milestones so that both parties are aligned. The mentor-mentee relationship should be built on mutual respect while successful relationships "evolve into colleague-colleague relationships."
Joshua Morgan, postdoctoral researcher in the Department of Biomedical Engineering at the University of Delaware, and recipient of the 2016 Proteintech Best Postdoc Mentor Award, suggests that a team-based approach to mentoring is often the best for both mentors and mentees.
Morgan added, "A single mentor 'can't be everything to everybody,' and so being a good mentor is also about connecting mentees to other people to talk to or other relevant resources."
A team of mentors can provide young scientists with insights and guidance from a variety of professional and scientific perspectives, which not only helps the mentee, but also strengthens the mentoring culture within organizations.
The article also promotes the idea that "mentoring is a skill that can be learned and improved over time."
Suzanne E. Barbour, professor of biochemistry and molecular biology and dean of the graduate school at the University of Georgia, says, "the most practical strategy for learning how to mentor effectively may simply be trial and error, as there is no substitute for real experience."
Visit LabManager.com to read the entire article.
[i] http://www.labmanager.com/leadership-and-staffing/2017/07/the-value-of-mentorship-in-the-scientific-field#.WbnCv9P5jox