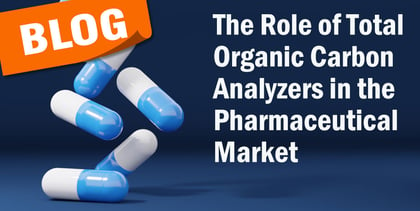 Total organic carbon (TOC) analyzers play a significant role in our pharmaceutical testing laboratories and manufacturing facilities. Water is a major excipient and solvent used in pharmaceutical manufacturing and cleaning processes. It must be tested regularly for TOC. TOC analyzers are used globally to measure the amount of organic carbon that is present in water and in the equipment for cleaning validation. TOC is also used to test water sources for injection and has other uses within the pharmaceutical landscape.
TOC is often chosen over other techniques because it is non-specific. Any substance that contains carbon will be measured and reported back as total carbon. This is highly advantageous over other techniques that are highly specific. For example, High-Performance Liquid Chromatography (HPLC) only looks at known compounds; anything outside of the known list is considered an unknown and further analytical work is needed to understand what that compound is.
TOC has grown in acceptance for cleaning validation, which was formerly reserved for single-product assays like HPLC. You can test for TOC in the drug residue, excipient and cleaning agent. Other techniques cannot handle all three categories.
TOC will provide you with a go/no-go analysis. Pharmaceutical manufacturers typically set actionable limits for cleaning validation. They know if their TOC value is below their actionable limit, there is no need for further cleaning/rinsing. If the TOC value is over the actionable limit, they must revisit their cleaning process to ensure that the equipment is clean before they move on to the next batch.
TOC is an excellent choice for the pharmaceutical industry so that water testing and cleaning validation can be performed with ease. For more information as to how Teledyne Tekmar and Teledyne Pharma can assist you, please click the link below.
If you would like someone to contact you with additional information regarding your application - click the button below.
Teledyne Tekmar is always looking to hire qualified chemists. To see a current list of job openings visit http://www.teledynecareers.com/