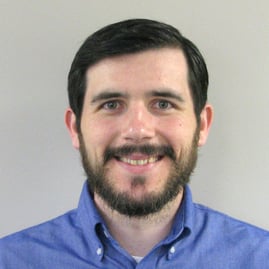 Meet the Teledyne Tekmar Team
During the next several months, we will be introducing members of the Teledyne team through Q&A sessions in our blog. The posts will provide an opportunity to put a face to a name, as well as background details about our internal subject matter experts, and their perspective on lab technology and industry issues.
Spotlight: Jacob Rebholz, VOC Product Line Manager, Teledyne Tekmar

What is your background?
I have been with Teledyne Tekmar for almost 2.5 years. I have spent the past year and a half as the VOC product line manager, but before that, I was hired as an applications chemist. My time in the applications lab was invaluable for me. This is where I learned about purge and trap, and also where I honed my GC/MS experience.
Prior to working for Teledyne Tekmar, I received a Bachelor of Arts degree in Environmental Science and Associate of Arts in Chemistry at Thomas More College, and a Master of Science degree in Environmental Science at Indiana University. I was first employed as a chemist for Pegasus Technical Services Inc. and I have a collective eight years of experience with volatile compounds measuring by a variety of techniques, including Purge and Trap, Headspace, SPME and compound-specific sniffer detectors.
What is your role with Teledyne?
As the VOC product line manager, I wear a couple of different hats. On any given day, I serve as a technical expert, answering chemical analysis questions for customers and assisting our sales teams in presenting technical specifications, a marketing role, approving application notes, webinars and advertisements for my products, and lab manager, overseeing the numerous projects that are being conducted in the applications lab. Other duties include maintaining and updating product price lists, assisting sales managers in meeting territory sales goals, and helping to assure that our customers are satisfied with the instruments we provide.
What would you like prospective customers to know about Teledyne and its technology?
Tekmar was the first into the Purge and Trap market, and we have been the market leader ever since. We have maintained our leadership role through constant efforts to improve our products through the adoption of new technologies. For example, Teledyne Tekmar utilizes a mass flow controller in several of our VOC products to supply a constant flow of purge gas, regardless of system back pressure.
We also offer the largest dynamic trap on the headspace market. And we haven't been afraid to think outside of the box either. For instance, the Atomx is the only combined concentrator and autosampler on the market. By combining the two components into one, we have been able to remove a significant amount of tubing and valves from the Atomx, resulting in a simpler, more robust system. The Lumin standalone concentrator takes this concept one step farther by combining all of the valves onto one manifold, eliminating numerous tubing connections that are potential sources of leaks. And of course, our in-house R&D team is always working on the next big thing.
What makes Teledyne's VOC instruments stand out in the industry?
Our products stand out thanks to our attention to detail. Every aspect of our design is intended to make our instruments sensitive, reliable and easy to use. That's why we offer innovations such as methanol rinsing in the Atomx to prevent carryover from oily samples and touch screen software with a simple-intuitive layout in the Lumin. We also staff a team of the most dedicated, hardest working service engineers in the industry who are committed to keeping our instruments running optimally. We make it our mission to satisfy every customer, because our biggest sense of pride comes from seeing our products working hard for our customers.
What do you see as the biggest challenge facing the industry?
The biggest challenge facing our customers is the squeezing of their margins. Modern VOC labs have to keep sample loads up in order to stay profitable, and things like long purge and trap cycle time, and frequent maintenance requirements can really cut into a lab's productivity. Today's modern purge and trap systems are faster and require less maintenance than older systems. In some cases, a new concentrator can pay for itself with in a year or two thanks to its ability to run more samples per shift.
What next in terms of VOC instrument innovation?
I see exciting things in the future of the VOC world. As technologies continue to improve, I see purge and traps getting faster, and more sensitive. I see the software for all of our VOC products getting smarter, and more intuitive. Most importantly, I see a new generation of VOC instruments that will be faster, allow users to measure lower levels of contamination, and most importantly, will be easier to use than ever. We've come a long way in the past 30 years, and I can't wait to see where the next 30 take us.
For more information on Teledyne Tekmar and analytical instruments manufactured by them. Visit www.teledynetekmar.com or click the button below