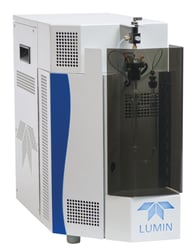 Teledyne Tekmar has been building commercial purge and trap concentrators for more than 40 years. Labs worldwide associate the Tekmar name with innovative, high-quality products for analyzing volatile organic compounds (VOCs). In March, we introduced the newest member of our purge and trap family, the Lumin Purge and Trap Concentrator, an ideal solution for drinking water and wastewater applications.
The Lumin Purge and Trap Concentrator is an eighth generation system, and combines tried-and-true features with new innovation, to create the fastest and most reliable concentrator in the Tekmar line-up. The new features and benefits will carry our company into the next decade.
The benefits include:
Electronic Mass Flow Controller (MFC) allows for use with either Helium or Nitrogen. This patented MFC has the ability to vary flow rates in different modes which increases sample throughput 

Ultra-low carryover 

Superior water management 

Proprietary trapping material allows for excellent desorption efficiency 

Automated leak checking 

Sample logging ensures data integrity 

Foam detection and prevention options 

Software control allows for built-in diagnostics and self-testing 

Purge and Trap is a time proven method of analysis. The new Lumin Purge and Trap Concentrator uses our electronic Teledyne Hastings Mass Flow Controller to precisely deliver extraction gas to the sample, stripping the VOCs and delivering them to a sorbent trap. Our U-shaped trap is capable of adsorbing the VOCs of interest while minimizing the collection of unwanted compounds, such as water. The trap is then heated and back-flushed to a gas chromatographer for separation and subsequent detection. A new advanced fan and dedicated ductwork help to cool the trap faster than ever. The system then automatically performs a clean-up step, allowing for the next sample analysis.
Check out our new video to learn more about the Lumin Purge & Trap Concentrator:
For more information on the Lumin Purge and Trap