Hydraulic Fracking - Is Drinking Water at Risk?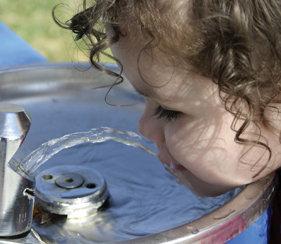 In the December 2014 issue of Water Online a white paper written by an associate professor and a graduate student from the University of Saskatchewan asks the following question about hyrdraulic fracturing or fracking, "Is drinking water at risk?"
There has been significant debate about the environmental impact of fracking, from erosion to earthquakes. The authors of the white paper describe fracking as a "double-edged sword." On one side, the process permits the extraction of oil and natural gas reserves from low permeable organic shale formations and tight sand beds. On the other side, fracking carries environmental risks, including "groundwater and surface water contamination, land destruction, air pollution, geologic disruption, greenhouse emissions, and radiation."
To understand the impact on groundwater and water contamination, the authors detail the fracking water cycle, which includes five stages: water acquisition, chemical mixing, well injection, flow-back and wastewater treatment. During fracking, a large amount of source water is mixed with chemicals and sand. The mixture is blasted into the well to break up the oil reserves and bring the oil and natural gas to the surface. The flow-back is either captured and recycled or disposed of at wastewater facilities.
The white paper outlines five possible risks to source water:
Water scarcity – A large volume of water is needed for fracking, which can potentially compete with other needs in arid climates.
Stray gas contamination – Natural gas that is not captured could potentially contaminate other water sources.
Spills and leaks – Flow-back spills, overflows or breaches containment areas contaminating soil and water sources.
Toxic and radioactive materials – Flow-back and wastewater may contain naturally occurring radioactive material that could accumulate and pose risks downstream.
Insufficient treatment and unauthorized discharge of contaminated water – There are a number of reports of sites not adequately treating wastewater and or depositing untreated water without authorization.
What we do know is that that there are potential threats to both surface water and groundwater source. This can happen during the treatment, storage or disposal processes of the hydraulic fracturing fluid, and as a result of the "upward leakage of natural gas along well casings or natural fractures." The wastewater and leaked gases can potentially contaminate area water sources, including nearby rivers or streams.
In addition to the risks, the white paper also outlines possible solutions to help reduce the potential for the environmental risks, including establishing safe zones around drinking water resources; mandatory baseline monitoring to determine the chemical and isotopic composition in areas of development; and zero discharge policy along with new treatment technologies. The authors call for additional research to determine the extent of the risks that hydraulic fracturing may have on water sources, the environment and human health.
August 12, 2013, we published another block relating to Hydraulic Fracturing. In that blog we reference how Teledyne Tekmar has been at the forefront of analyzing drinking water samples for methane. There is a potential concern for methane migrating into driving water supplies from Hydraulic Fracturing. The most common method used for analyzing methane in drinking water is EPA SOP RSK175. Click to read our previous blog post on Hydraulic Fracking. Tekmar has also published a couple application notes on RSK175.
Two Headspace Solutions for the Analysis of Dissolved Gases in Water by Method RSKSOP-175
An Alternative Method to RSK 175 using a Purge and Trap Concentrator and GC/FID
For the complete white paper, see pages 8-13 of the December issue available online: http://wateronline.epubxp.com/i/426767.