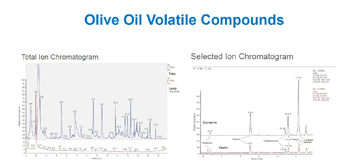 Teledyne Tekmar recently conducted a webinar about food and beverage flavor testing using Teledyne's automated headspace solutions. In the webinar, analysis of several food and beverage applications was provided. The headspace analysis was completed using the HT3 Automated Static and Dynamic Headspace Vial Sampler, which includes a 60-position Autosampler and a 10-position Sample Platen for Overlapping; and the Versa Automated Headspace Vial Sampler, which is only one-foot wide and includes a 20-position Autosampler and a single vial platen. Here are several key takeaways from the webinar:
Headspace analysis is a sample preparation technique for Gas Chromatography (GC) and Mass Spectrometry/Gas Chromatography. During the analysis a sample is placed in a sealed vial, which is typically heated. The volatiles leave the sample matrix and migrate into the gas phase. The headspace is sampled and sent to the GC for analysis.
Headspace analysis is used to keep syringes, injectors and columns clean. Matrix conditions can be modified to fit the analysis and solid samples can be directly analyzed. High-concentration samples can be tested, and the technique offers increased sensitivity.
Headspace analysis is typically used for the following applications:

Food and flavors
Pharmaceuticals
Forensics (Blood Alcohol)
Environmental
Polymers
Coating
Oil and Gas

There are two types of headspace analysis, static and dynamic. In static headspace, the sample in the vial is sealed, warmed and then withdrawn and injected into the GC. In dynamic headspace sampling a flow of carrier gas through the vial helps to increase the sample size and the sensitivity. In static headspace, the sample comes to equilibrium in the sealed container, while the sample is constantly purged through a trap in dynamic headspace analysis.
For each of the samples tested, the researchers were successful at detecting the desired flavors and organic compounds. The benefits included simple sample preparation, the ability to identify multiple compounds and perform testing on multiple samples without inlet and column maintenance.
To watch the recording of the webinar or download the slides that were presented click the link below: