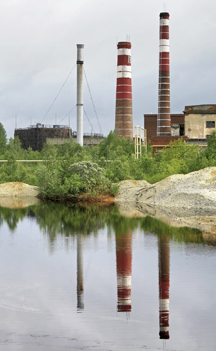 Within the Uintah Basin of Utah there are 15 evaporation pond farms that manage liquid waste. Recently, one of the facilities in Grand County, Utah, which receives wastewater from oil and gas mining in Colorado, was found to be operating without air-quality permits for the past six years. Since April 2008, the facility has released "tons of toxic chemicals" into the air. The company, Danish Flats Environmental Services, had also provided faulty data that did not accurately report the effectiveness of emission-control equipment on site. An analysis conducted by the states Division of Air Quality found that the site was a "major emission source for hazardous air pollutants and volatile organic compounds." The company was subsequently fined $50,000 for its violations.
An article from The Salt Lake Tribune, described the wastewater:
"Oil and gas wells often yield more water than hydrocarbons, resulting a large wastewater stream. Such water cannot be put onto fields or into streams because it typically holds salt, chemicals and volatile organic compounds. It also contains valuable light-weight hydrocarbons like propane or butane, which can be recovered.
"Most of the time, this water is injected back into the formation it came from or is used to stimulate oil and gas production from other wells. But some of it has to be processed and that's where companies like Danish Flats play a vital role."
One of the interesting findings from the emissions from Danish Flats was that the biggest pollutant was methanol, used as antifreeze and an anti-fracking agent. Methanol is considered a hazardous pollutant and a VOC and is highly soluble in water. The company placed perforated summa canisters around its 14 evaporation ponds to absorb the airborne VOC as a way to measure how much was being emitted into the air. Unfortunately, the canisters are effective at measuring emissions inside closed spaces, but were not designed for this method of sampling so the measurements were found to be unreliable. The company was also cited for allowing wastewater to escape the ponds by using misting operations to aid in the evaporation process.
In addition to threatening the air quality and the surround area, the evaporation ponds are also threatening birds, mammals and bats that mistake them for safe stopovers and feeding grounds. Another story in The Salt Lake Tribune reported, "
"Moab ornithologist Skip Ambrose visited evaporation ponds at Danish Flats Environmental Services eight times in 2009 and 2010, documenting dead birds, masses of dead insects and birds with oiled plumage, which can be lethal because it harms eggs and ruins the insulating properties of feathers."
The ability to analyze VOCs is a vital part of environmental monitoring. While this case dealt with airborne VOCs, the large unmonitored quantities that were being released were being blown to other areas while some of the wastewater was being released directly into the air through misting operations. These airborne VOCs and contaminated water sources ultimately can settle in soils and source water, impacting other ecosystems and threatening additional wildlife.
Teledyne Tekmar's VOC product line includes systems for Gas Chromatography (GC) Sample Introduction, High-Throughput Purge and Trap sample concentration, Static and Dynamic Headspace analysis, and Sample Automation. The systems are used by labs around the world to measure soil and water quality.