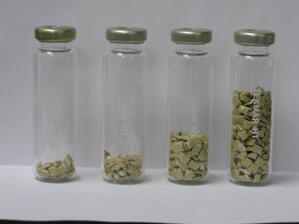 In our first post about headspace gas chromatography (GC) analysis, we addressed the basics of the volatile components testing process. Static and dynamic headspace/GC analyses are surging in popularity driven by their ability to accurately determine blood alcohol levels and residual solvents in pharmaceutical production. As a result of their effectiveness, organizations in other industries such as cosmetics and food are using it to determine the presence and levels of volatile species in their liquid and solid samples. In this post, we will focus on how to get the best performance when implementing headspace/GC and the key issues to consider when preparing samples.
Accurately determining blood alcohol content can be the difference between letting a drunk driver go free or successful prosecution. Defense attorneys frequently challenge the results of headspace analysis in cases involving drunken driving, so eliminating human error is vital to ensure accurate results. The same type of scrutiny is critical whether testing for residual VOCs in pharmaceutical manufacturing or food packaging, or allergens in cosmetic products. Inaccurate information created by flawed analysis creates significant challenges. For a successful analysis, you should pay careful attention to sample preparation and system set-up.
"There are two key goals of sample preparation: (1) to remove any interference that may affect the results of the scientific analysis; and (2) to increase abundance of targeted analytes (the substances being measured), thus improving detectability and ultimately the utility of the scientific analysis."[i]
Sample preparation can be complex and tedious process, and lab professionals spend a majority of their time preparing samples for analysis; as much as 80 percent of their time according to Lab Manager Magazine. As a result, the process can be prone to errors. "Based on vendor estimates, errors of commonly used measurement methods are usually below 20 percent but can easily rise to more than 200 percent."[ii]
Common mistakes may include inaccurate sample labeling, using the wrong size or type of vial or ensuring the proper conditions and cleanliness of the equipment or environment. It's also important to look for things that might impact the results of the analysis, including leaks, sample volume and sample-specific conditions such as clotting and fermentation in blood.
"Samples for headspace/GC must be prepared in such a manner as to maximize the concentration of the volatile sample components in the headspace while minimizing unwanted contamination from other compounds in the sample matrix."[iii]
Below are several ways to address sample preparation concerns and help achieve good performance:
Vials should match the type and size of the sample

Vials should be pre-cleaned to eliminate any contamination

Maintain consistent samplings to ensure precision and reproducibility

Maintain temperature consistency across the samples to prevent unequal sampling volumes

Build in sufficient time into the cycle to achieve a state of equilibrium; shaking or vibrating can help with this process
In addition to sample preparation, how the sample is introduced into the analytical column greatly influences headspace/GC performance. There are three common techniques used to transfer samples from the vial to the columns, including gas-tight syringes, balanced-pressure sampling instruments and pressure-loop sampling instruments. The third part of our headspace analysis blog series will break down the three techniques used to transfer the headspace sample and how they influence the analysis.
Teledyne Tekmar draws on our experience as a leader in low-level VOC analysis with the HT3 and the Versa Static and Dynamic Headspace Systems.
Versa is the perfect solution for applications which require all the advantages of headspace analysis and is economical to fit any budget. Click for more information on the Versa.
Dramatic improvements in sensitivity are achieved with the HT3 Dynamic Headspace option, while maintaining the ruggedness and reliability of a traditional Static Headspace instrument. Click for more information on the HT3.
---
[i] http://www.crystalra.com/blog/an-introduction-to-the-sample-preparation-life-science-research-market
[ii] http://www.labmanager.com/surveys/2011/07/most-not-planning-to-automate-see-the-chromatography-sample-prep-survey-results#.U9vtc0hIegg
[iii] Restek, Inc. "A Technical Guide for Static Headspace Analysis Using GC," pg. 8