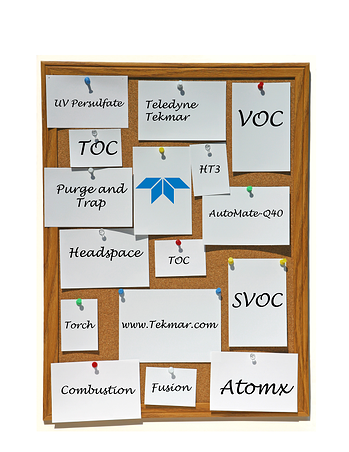 We are happy to announce some dynamic changes in our blog content. Simply put, it was time for a change of philosophy. While our blog has always been a valuable resource for technical information, we recognized an opportunity to expand its subject matter, increase frequency, and ultimately create a more diverse, more useful forum. After all, we want users like you to benefit from its content, encounter something truly thought provoking, and come away with something valuable. We want you to return for the next post, and above all, we hope we move you to comment and participate in the discussion!
Content will include all of the familiar technical background we've always provided in VOC Purge & Trap, VOC Headspace, TOC and TOC/TN Analysis, and our latest endeavor SVOC, the automation of the QuEChERS sample preparation workflow. All of these will be coupled with an increased effort to bring our instruments and scientific background to real-world applications, events, and industry. We'll dedicate some time to indispensible instrument procedures including troubleshooting, routine maintenance, and new products and solutions for all areas of our expertise.
We are also excited to initiate "The Basics:" a blog series intended to mentor inquisitive minds. As the world grows more chemically complex, it will require a generation of knowledgeable chemists skilled in analytical instruments, software and chemistry. We are inspired by what the future of analytical chemistry holds and feel compelled to contribute.
And finally, the guidance we have always provided will continue to fill our blogs, including emerging applications, compliance solutions, resources for method parameters and sample types, and anything else we can generate to help you achieve your goals.
Here are just some of the topics you can expect:
Announcement of

Application Notes

, and

Webinars

.

Our unique insight into current news and events relating to environmental, food and beverage, forensics, petrochemical, pharmaceutical, and plastics.

Publishing of questions and answers from our Webinars.

Ongoing guidance in complying with regulatory agencies and committees including: US EPA, USP, DEP, AOAC, ASTM, EN, JP, and more.

Honest, informative guides to make you a more fully informed consumer.

Details of how our instruments, and our expertise in sample preparation, automation and analysis, translate to real-world scenarios.

Passing along the curious, relevant, confounding and simply interesting scientific articles that we find are too good not to share to our community of readers.

"The Basics:" series that covers various components of analytical chemistry in layman's terms.

Instrument performance improvements, routine maintenance, best practices, and troubleshooting gleaned from decades of experience in seeking solutions in sample preparation and analysis.

A peek into our world: What we are up to in our Applications Lab. The process behind the design, manufacturing, and testing of our instruments. The training behind our exceptional service technicians, and what services we can provide to our customer base.

And finally, anything that makes US more relevant to YOU. We're open to suggestions! Please comment below and we'll do our best to include the content that is most important to you.
Please subscribe to our blog or add us to your RSS Feed and allow us to send this wealth of insight and information directly to you. This is a place for experts, novices, analytical chemists, industry leaders, quality assurance specialists, students and anyone interested in chemical analysis. We make it our business to apply our scientific expertise to numerous applications, bring those questions into the lab, and return the results to the world. Allow us to bring them to you.