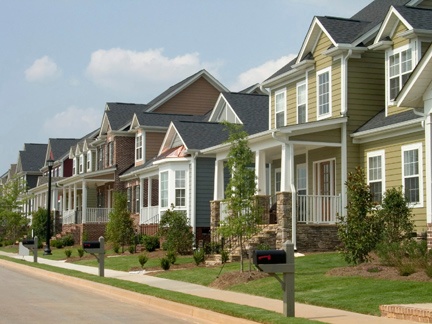 Scientists in Edmonton, Alberta Canada wanted to find out where the air is better, inside or outside the home. The objective according to the study published in the August issue of Building and Environment "was to get a better understanding of emission sources of volatile organic compounds (VOCs) and their contributions to indoor and outdoor concentrations in residences in Edmonton."[1] With all the concerns about air quality, one might think that the obvious answer is inside with the filtered air conditioning.
Researchers evaluated 26 non-smoking homes in the winter and summer of 2010 for seven consecutive 24-hour periods. All samples were collected with Summa canister, and 193 polar and non-polar VOC species were analyzed by gas chromatography – mass spectrometry. What researchers found is that we should follow our parent's advice and go outside to enjoy some fresh air.
"The total amount of indoor VOCs detected during the winter was twice as large as those detected during the summer months with 1698 and 915 µg m-3 respectively — this was probably as a result of better ventilation during the summer months. There was little seasonal variation in the outdoor readings, with both summer and winter being approximately 90 µg m-3 — showing the indoor VOCs to be significantly higher than the outdoor readings all year round."[2]
Among the interesting findings:
More than 70% of total indoor VOCs were attributed to different indoor sources.
Household products (44%) and combustion processes (10.5%) contributed most to the indoor VOCs, followed by environmental tobacco smoke and deodorizers.
Industrial and traffic emissions were identified as dominant outdoor VOC sources.
According to the Center for Disease Control and Prevention, VOCs "are common chemical contaminants found in office and home environments and are a source of odors. VOCs are organic (containing carbon) chemicals that can easily evaporate into the air. Many products found in the office environment may have the potential to release VOCs,"[3] including sealants, adhesives, paints, cleaning agents, vinyl flooring, carpeting, and air fresheners to name a few. The combination of all these sources can create an indoor environmental air quality problem, which makes ventilation and air filtering systems critical.
The ability to analyze volatile organic compounds is a vital part of environmental monitoring, outgassing studies, flavor or fragrance analysis, among others. While gas chromatography is a powerful analytic tool, it does have limitations. Gas chromatography operates as an interaction between vapor and liquid phases. Samples must start out as vapors. While the samples in the Edmonton study were vapors, there are many samples, such as pollutants in soil or flavors in solid food that cannot be directly introduced directly into a GC detector. In these situations, researchers can use a Purge and Trap technique, which separates the VOCs from a matrix. The VOCs are then concentrated and injected to a GC detector for separation.
For more information on the VOC Purge and Trap and Headspace techniques and Teledyne Tekmar's family of VOC products, visit www.teledynetekmar.com.
[1] http://www.sciencedirect.com/science/article/pii/S0360132315001328
[2] http://www.chromatographytoday.com/news/gc-mdgc-gc-ms/32/breaking_news/should_you_go_outside_for_fresh_air_chromatography_investigates/35502/#sthash.jrHVbB0g.dpuf
[3] http://www.cdc.gov/niosh/topics/indoorenv/ChemicalsOdors.html
Click to edit your new post...