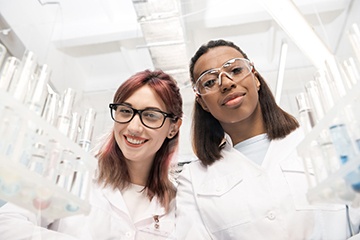 Gertrude B. Elion shared a Noble Prize for Physiology or Medicine in 1988 despite never receiving a doctorate degree. In fact, she served as a professor, received numerous honorary doctorates and a National Medal of Science, was the first female inducted in the National Inventors Hall of Fame, and was chosen as a Foreign Member of the Royal Society (UK), all without the distinction of earning a PhD. Even with all of the recognition, Elion is most famous for breaking down the gender barriers within the scientific research community.

When she died in 1999, The NY Times wrote, Ms. Elion broke down sex barriers in the male-dominated world of scientific research, becoming one of the rare women to win a Nobel Prize and, even rarer, a scientist who did not have a doctorate."
As a young person, Elion dreamed of finding a cure for cancer, which took the life of her grandfather, but after graduating from Hunter College in New York with a degree in chemistry Elion said she ran into a "brick wall."
A January 2018 Time article about Elion reported, "No one was taking her seriously: 'They wondered why in the world I wanted to be a chemist when no women were doing that.'" She was rejected by several graduation programs and took an unpaid laboratory assistant position and also served as a substitute science teacher. She was eventually admitted into New York University where she obtained her master's degree. In 1944, Elion joined Burroughs Wellcome (now GlaxoSmithKline) where "she expanded her expertise into such fields as biochemistry, immunology, pharmacology and virology."
Despite her difficult beginning in a male-dominated field, Elion left a legacy in the drug development world. She was responsible for helping to develop a variety of drugs for use in a number of conditions. "They included drugs for herpes, leukemia, malaria, gout, immune disorders, and AIDS, and immune suppressants to overcome rejection of donated organs in transplant surgery."
Elion retired from Burroughs Wellcome in 1983, but remained at the lab as a Scientist Emeritus and consultant, where she helped manage the development of azidothymidine (AZT), the first drug to combat AIDS. She also served as a research professor of medicine and pharmacology at Duke University.
In her biography on NobelPrize.org, Elion wrote, "In a sense, my career appears to have come full circle from my early days of being a teacher to now sharing my experience in research with the new generations of scientists."
Time Magazine concluded its feature about Elion writing, "When Elion died in 1999 at age 81, she hadn't found a cure for her grandfather's cancer. But through saving and improving the lives of many others, she trumped anyone who long ago dismissed her choice of career."
Teledyne Tekmar is always looking to hire qualified chemists. To see a current list of job openings visit http://www.teledynecareers.com/